Unisex Pyjamas ! Get #Twinning
•
Posted on November 22 2018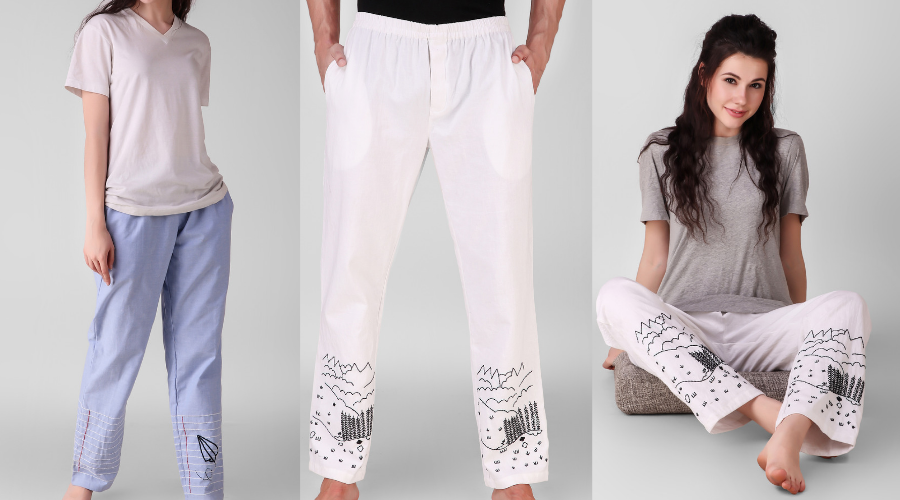 What is the fun of romance if you do not have a few crazy couple goals?
While getting clicked with a different flavoured ice cream each week, trekking across the most beautiful valleys of the country every vacation, gifting your significant other a rose each day for a year, wearing matching clothes every Wednesday are all too common, you ought to come up with a slightly different way to feel in unison. And wearing matching pyjamas when you are lounging at home over the weekends is definitely the right fit. Although it might sound a bit cheesy but isn't that the point? If there's a convincing to be done, it's best to give them a set as a V-day gift! This will keep them obliged to wear it and the chances are they will feel so comfortable and in sync that it's going to be their favorite set from then on.
Remember whatever your style preferences in terms of sleepwear are as a couple, there's always an option for you!
Here are 4 trendy unisex PJs that you and your partner must dress up in –
Tribal Craft Unisex Hand-Embroidered Pyjamas
Love looking your best even when it's time for bed? Here is a pair of solid cotton pyjamas with fun and funky hand embroidery that both you and your partner will absolutely love.
The Tribal Craft unisex pyjamas come in a pale blue 100% cotton chambray fabric with contrasts that perfectly go well with the vibrant yellow, white and black embroidery complimenting the set. The pyjamas are available in different sizes to suit both you and your bae. Wear them for your weekend at home or on a lazy weekend away at some resort. We are quite sure this will effortlessly keep you both together.
The Notebook Unisex Hand-Embroidered Pyjamas
Catching a movie marathon with your partner at home this weekend? Or planning to spend a rainy day in bed reading to your significant other? Look for these matching pyjamas that will add fun to your time together and help you get in sync.
The blue 100% chambray fabric of The Notebook unisex pyjamas is what makes the set super comfortable and a loungewear of choice. Add to it the sweet hand embroidery in white black and maroon and you have just the right cotton nightwear you would love to share with your partner.
Lazy Sheep Unisex Hand-Embroidered Pyjamas
What better way to spend a lazy weekend with your partner than wearing matching pyjamas and lounging at home? Wearing a pair of PJs with some super cute lazy sheep hand embroidered on them.
The Lazy Sheep pyjamas are made from soft cotton chambray fabric in pale blue. Gift yourself and your significant other these straight fit pyjamas this weekend and enjoy your moments of togetherness. You can opt for women's nightwear in a different size from your partner.
Tatra Unisex Hand-Embroidered Pyjamas
Do you and your partner love travel? Can't wait to get on with the next adventure? Don't stop dreaming about the next holiday you both plan to take? Here are the perfect unisex pyjamas for the both of you. The Tatra Embroidered Pyjamas are made from soft white chambray cotton.
What makes them extraordinary, however, is the captivating embroidery. Swaying fields and mountains and grasslands – all captured in a fun way. Donning these is certainly the best way to match your PJs with your significant other.
These Pyjama sets are sure to put you into the cuddle mood and feel like a couple more than anything else. Nothing, after all says "I love you" than a pair of matching sleep wear.